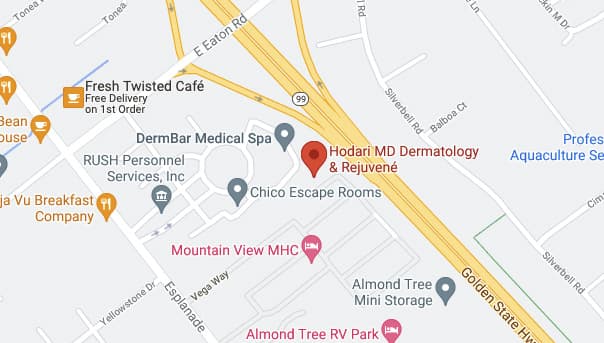 Hodari MD Dermatology & Rejuvené
80 Declaration Drive
Chico, CA 95973
Phone: (530) 342-8295
Mon–Thur: 8 a.m.–5 p.m.
Fri: 8 a.m.–4 p.m.
Sat–Sun: Closed
Book Appointment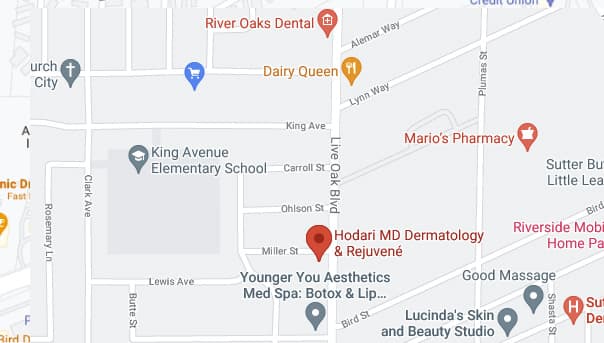 Hodari MD Dermatology & Rejuvené
1178 Live Oak Blvd
Yuba City, CA 95991
Phone: (530) 329-8511
Mon–Thur: 8 a.m.–4:30 p.m.
Fri: 8 a.m.–12 p.m.
Sat–Sun: Closed
Book Appointment

Hodari MD Dermatology & Rejuvené
672 Oro Dam Blvd E. Suite 202
Oroville, CA 95965
Phone: (530) 533-3571
Mon–Thur: 8 a.m.–12 p.m., 1 p.m.–5 p.m.
Fri: 8 a.m.–12 p.m.
Sat–Sun: Closed
Book Appointment

Book Now
Please select your location and then choose "Book Appointment" to schedule your appointment online.
If you cannot find the appointment you are looking for on the online scheduler, please call the practice and we'd be happy to assist you. Often, we have more availability than the online scheduler can display.
Please note that not all visit types can be scheduled online. Below is a list of some of the visit types that need to be scheduled over the phone.
Coolsculpting
Laser
MedSpa
Surgery
Most cosmetic treatments may require a consultation first and treatment may not be guaranteed same day. If your appointment requires a valid Referral and/or Authorization by your insurance carrier (HMO, Medicare Advantage Plan, etc.), please add the referral and/or authorization # in the appointment details box of your visit.
Oroville
672 Oro Dam Blvd E. Suite 202
Oroville, CA 95965
Phone: (530) 533-3571
Mon–Thur: 8 a.m.–12 p.m., 1 p.m.–5 p.m.
Fri: 8 a.m.–12 p.m.
Sat–Sun: Closed
Book an Appointment